These delightfully fruity frozen treats from Tesco Food are made with layers of pastel pink rhubarb and soft Greek yogurt. This two tone ice cream recipe makes a super refreshing snack on a warm sunny day.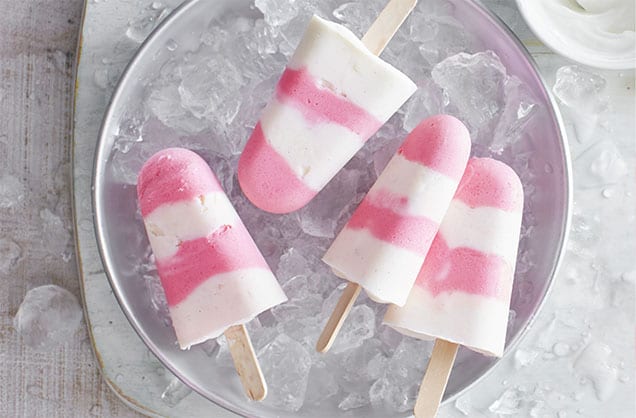 How to make rhubarb ice lollies:
Put the rhubarb in a pan with the sugar and vanilla pod. Slowly bring to the boil, and then simmer for 5 minutes until the rhubarb has softened. Remove from the heat. Put a sieve over a large bowl and push the rhubarb mixture through using a wooden spoon; discard the stringy bits left in the sieve.
Use a whisk to combine 200ml (1/3pt) of the rhubarb syrup with 2 tbsp of the yogurt. Set aside to cool.
Combine the remaining yogurt with the honey. Tip into an ice cream maker and churn according to the machine's instructions until smooth and almost frozen. Spoon into a tub and put in the freezer while you churn the rhubarb.
Layer the rhubarb and yogurt alternately in 4 x 100ml (3 1/2fl oz) lolly moulds (if the yogurt has firmed up too much, let it sit for a few minutes). Insert sticks into the moulds and freeze for 2-4 hours until completely solid.
Run the outsides of the moulds under hot water to remove and serve immediately.
Find more summer inspired, easy-peasy recipes at Tesco's website here