Delicious & festive recipes from Tesco
Making a Christmas cake at home is quicker and easier with this delicious recipe from Tesco. Packed full of the rich, festive flavours we all love, this luxurious boozy pud is bound to be a showstopper. Follow this easy Christmas cake recipe for guaranteed success.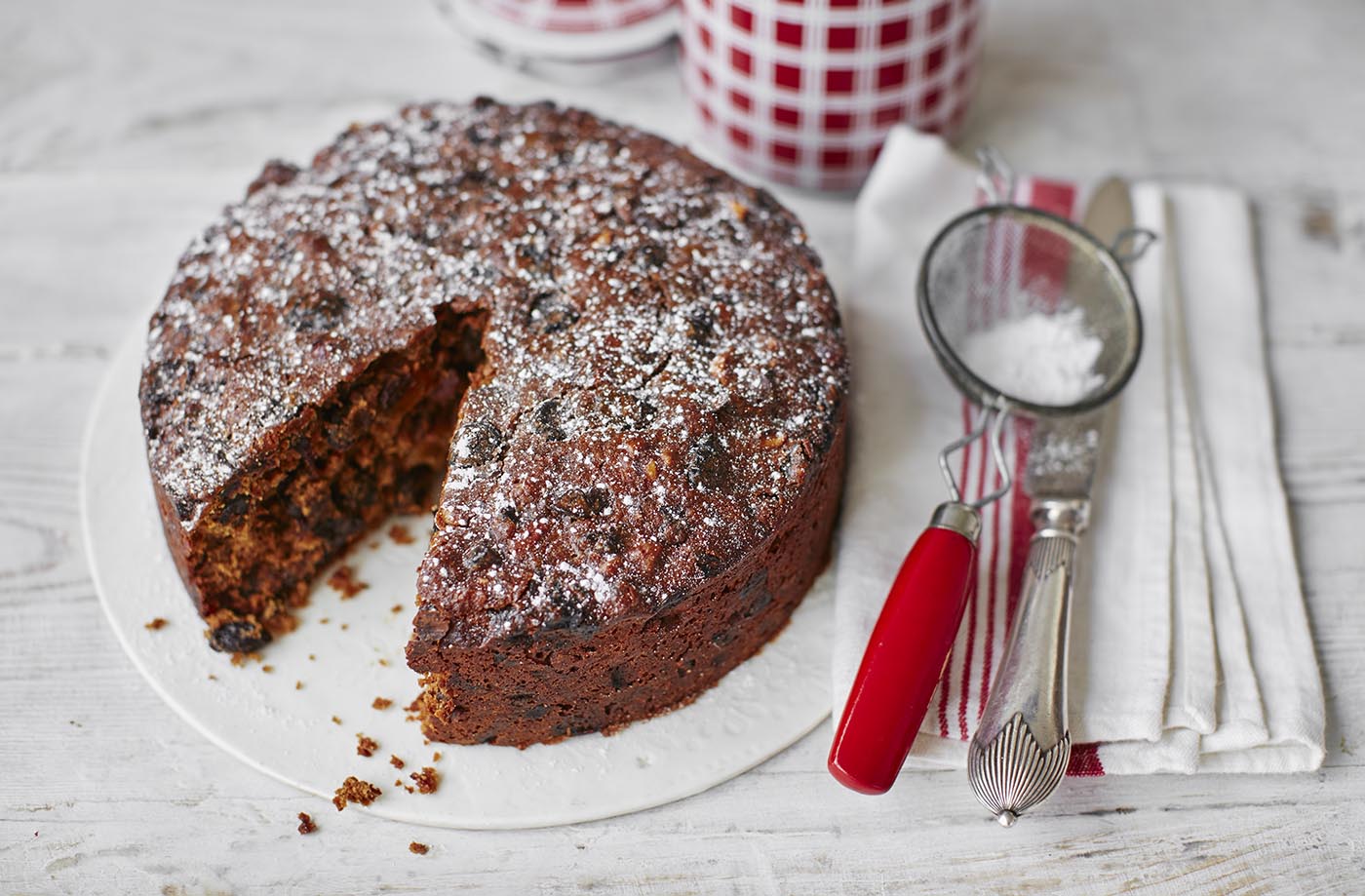 Ingredients
175g (6oz) butter, chopped
175g (6oz) dark muscovado sugar
1 tbsp treacle
1 x 150g pack dried fruit mix (including cranberries, raisins and cherries)
175g (6oz) soft dried apricots, roughly chopped
175g (6oz) soft dried prunes, roughly chopped
200g (7oz) sultanas and raisins
100g (3 1/2oz) dried cherries
2 clementines, finely zested and juiced
1 pink grapefruit, finely zested
125ml (4fl oz) cherry brandy or amaretto plus 4 tbsp extra to fill the cake
50g (2oz) toasted almonds, roughly chopped
50g (2oz) toasted hazelnuts, roughly chopped
3 large eggs, lightly beaten
75g (3oz) ground almonds
200g (7oz) plain flour
1 tsp baking powder
1 tsp ground mixed spice
1 tsp ground cinnamon
1/2 tsp ground ginger
icing sugar, to dust
Method
In a large pan, combine the butter, sugar, treacle, fruit, zests, juice and liqueur. Bring to the boil, stirring until the butter melts. Reduce the heat and simmer for 10 minutes, stirring occasionally. Remove from the heat and leave to cool for 30 minutes.
Meanwhile, preheat the oven to gas 2, 150°C, fan 130°C. Line a 20cm (8in) deep, loose-bottomed cake tin.
Stir the nuts, eggs and ground almonds into the fruit mixture. Sift in the flour, baking powder and spices. Gently stir until well mixed.
Spoon the mixture into the prepared tin and bake for 45 minutes. Reduce the heat to gas 1, 140°C, fan 120°C and cook for a further 1-1 1/4 hours, until the cake is deep golden and firm to the touch. If the cake darkens too fast, cover with foil. To test if it's ready, insert a skewer into the centre – if it comes out clean, the cake is cooked. Remove and leave to cool for 5 minutes.
Make small holes in the cake with a skewer. Spoon over the extra liqueur and leave to soak and cool in the tin. When cool, wrap tightly in baking paper and foil and leave to mature in a cool, dark place for up to 3 months. Dust with icing sugar before serving.
Find more delicious festive recipes at Tesco here – and naturally, shop for all the ingredients at Clifton Retail Park's Tesco Extra!