Great veggie BBQ option from Tesco
BBQ season is just around the corner and if you're watching your weight or you're a vegetarian then big social barbeques can be tricky to navigate! Tesco is here for you with some fabulous nutritious veggie recipes.
We've chosen a few of our favourite seasonal recipes for breakfast, lunch and dinner, and we'll be sharing these with you as part of a new series of articles. Find more at our news pages.
This one is halloumi and vegetable skewers – just perfect to stick on the barbie!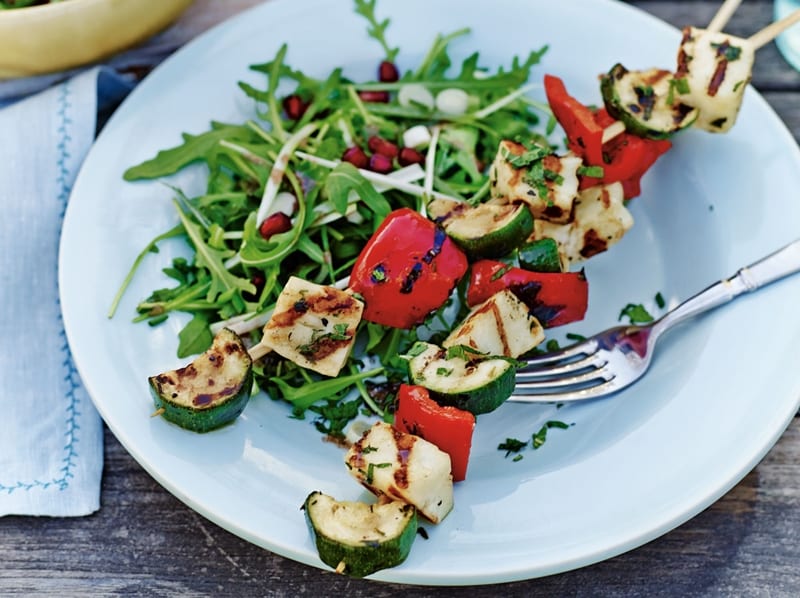 Ingredients
1 lemon, halved
52ml (3 1/2 tbsp) extra-virgin olive oil
2 x 250g packs halloumi, drained and put into 2cm (1in) cubes
2 red peppers, cut into 3cm (1 1/4in) squares
2 courgettes, halved lengthways and sliced into thick half-moons
handful fresh mint leaves, chopped
Brush the cut surfaces of the lemon with a little olive oil and place cut-sides down, on a hot barbecue, or in a hot griddle or frying pan. Cook for 1-2 minutes until caramelised. Remove from the heat.
Squeeze the juice from one half of the lemon into a bowl. Add the halloumi and vegetables, remaining olive oil and half the chopped mint, then toss to mix.
Thread the cheese and vegetables onto skewers (if using wooden ones, soak them first in water for 20 minutes to prevent scorching). Reserve the olive oil mixture.
Barbecue over hot coals, or cook in a smoking-hot griddle pan for 4-5 minutes, turning often.
Once cooked, remove the skewers from the heat and place on a serving dish. Drizzle with the remaining marinade, scatter with the reserved mint and serve with the other caramelised lemon half.
Find the full recipe at Tesco here
For more recipe ideas visit Tesco here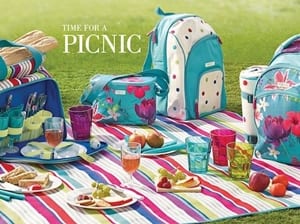 Who fancies a picnic!? We're loving the range at Next – pack a bag, stock up on tasty picnic recipes and make the most of these long, sunny evenings. Image courtesy of Next. Find the collection at Next's website here