The classic party ring biscuit has been given a totally tropical twist so whether you're organising a kids party or you big kids want to treat yourself to a delicious twist on your childhood fave, get the party started with this Coconut Party Rings recipe from Tesco!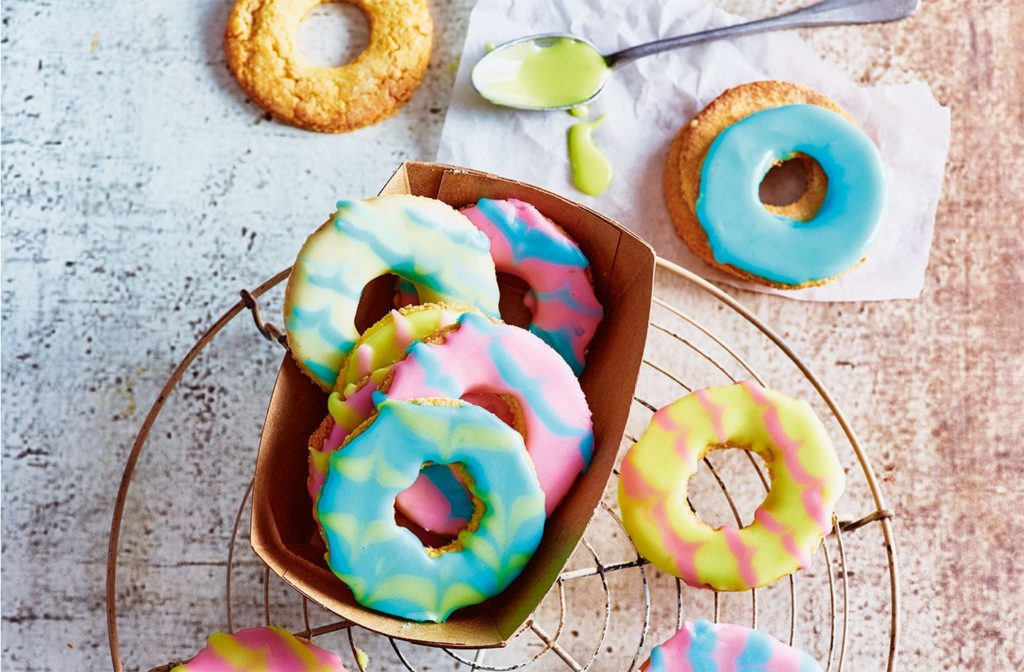 Get started here:
Put the butter, sugar and vanilla in a mixing bowl and beat, using an electric whisk, for 6-8 minutes, until pale and creamy. Add the flour, coconut, egg and a pinch of salt. Mix for a further 2 minutes, or until a dough forms.
Roll out the dough between 2 sheets of nonstick baking paper to 5mm (1/4in) thick; chill for 30 minutes.
Preheat the oven to gas 4, 180°C, fan 160°C. Using a 5cm (2in) cookie cutter, stamp out about 20 rounds, re-rolling as required. Using a 2cm (3/4in) cookie cutter, stamp out the middle of each round to make a ring and discard (or re-roll to make more biscuits, if you like).
Arrange the rings on a nonstick baking sheet and bake for 10-12 minutes, or until lightly golden. Leave to cool on the baking sheet for a few minutes, before transferring to a wire rack to cool completely.
To make the icing, sift the icing sugar into a large bowl and add enough freshly boiled water to produce a thick, spreadable consistency. Divide the icing into separate smaller bowls, adding a different food colouring to each.
Using a teaspoon, spread each ring with a single colour icing, then drizzle over lines in a contrasting colour. To create a feathered effect, drag a cocktail stick through the icing in 1cm (1/2in) intervals. Repeat with the remaining biscuits in different colour pairings. Leave to set on a wire rack before serving.
Tip: For a more controlled drizzle, fill a plastic food bag with icing and snip off the corned. Gently squeeze to ice.