Yes really! Enjoy a delicious tasty frozen treat for dessert with this dairy and egg-free chocolate ice cream recipe from Tesco.
We're very excited about this tasty summertime treat from Tesco's Real Food recipe website. All the taste but completely dairy and egg free, instead made with creamy coconut milk!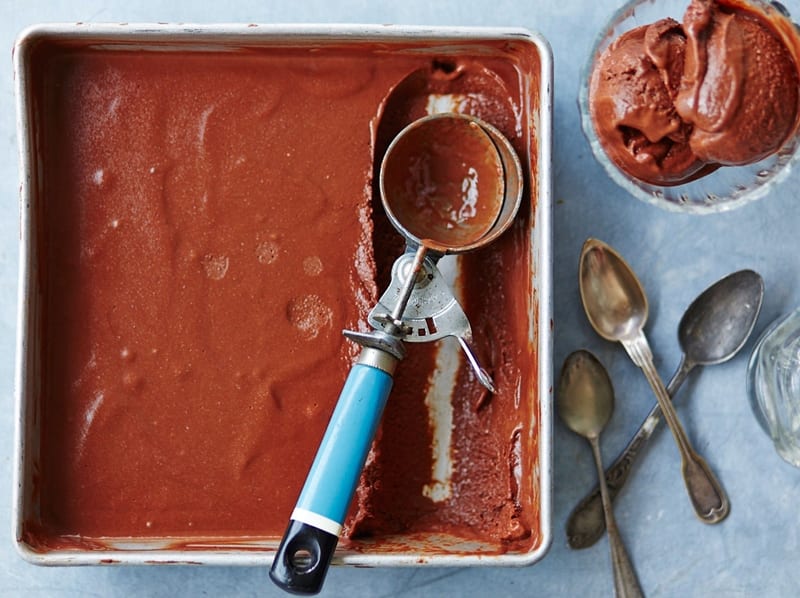 Method
Pour half the coconut milk into a heavy based saucepan with the sugar, honey, vanilla extract and salt and heat through until the sugar is dissolved. Add the cocoa powder, whisking until fully incorporated.
Put the corn flour in a separate bowl and very slowly whisk in the remaining coconut milk, one tablespoon at a time, making sure there are no lumps. Stir this into the saucepan over a medium-high heat until the mixture begins to bubble gently.
Cook for a few minutes, stirring constantly, until the mixture thickens. To test, coat the back of a wooden spoon and run your finger through it. If the line holds and does not drip, it is ready.
Remove from the heat and add in the chocolate, stirring constantly, until completely dissolved into the mixture.
Place parchment paper directly onto the surface of the mixture to prevent a skin forming and leave to cool, then refrigerate until completely chilled. You can use a freezer to speed this up.
Once chilled, churn in an ice cream maker or, if you don't have one, pour the mixture into a wide, flat tray and place in the freezer.
After 40 minutes or so, remove and use a fork to mix and break down the ice crystals. Repeat this process twice more.
At the final stage blitz in a food processor to make it really smooth. Then return to the tray and leave in the freezer to set fully.
Remove 15 minutes before serving to soften.
Ingredients
2 x 400ml tinned coconut milk
75g (3oz) caster sugar
90g (3 1/4oz) honey
1 1/2 tsp vanilla extract
generous pinch of sea salt
50g (2oz) cocoa powder
3tsp corn flour
100g (3 1/2oz) dark chocolate (70% cocoa), broken into small pieces
Find the full recipe and more summertime eats here and of course buy all the ingredients from Tesco Clifton Retail Park.