An unbeatable BBQ recipe from Tesco
The sun is finally out (hopefully to stay), so it's time to grab that glass of wine, dust off that BBQ and enjoy some delicious food in the garden with some friends and family.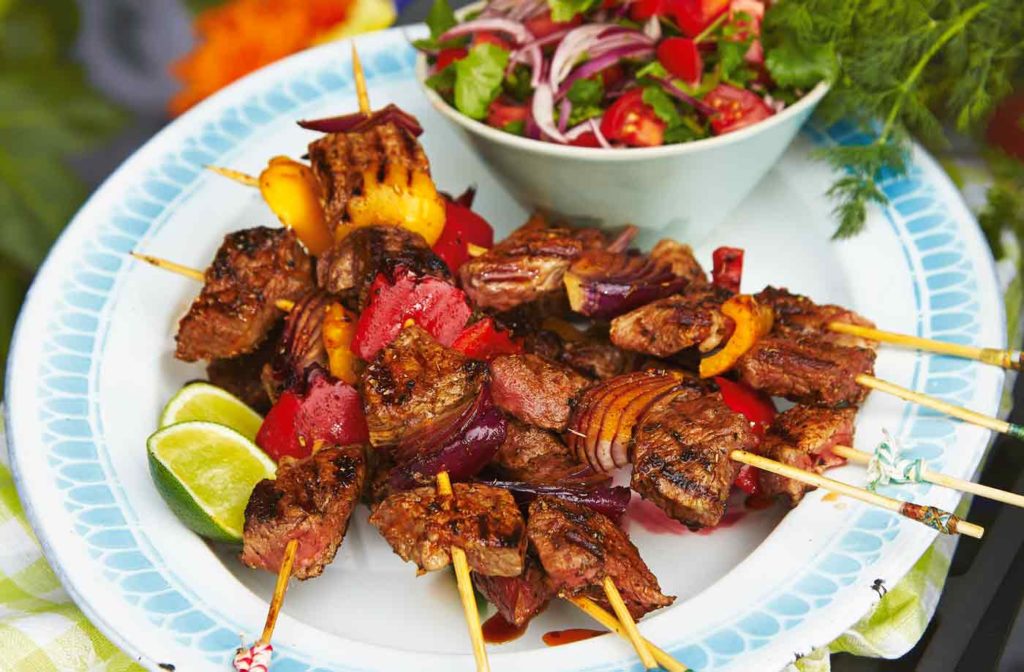 Ingredients
3 x 250g (8oz) beef ribeye steak, cut into 2½cm (1in) pieces
2 tbsp olive oil
2 garlic cloves, finely chopped
1 tsp oregano
1 tsp smoked paprika
1 yellow pepper, deseeded and cut into large cubes
1 red pepper, deseeded and cut into large cubes
For the salad
1 red onion, thinly sliced
1 lime, juiced
3 ripe tomatoes
Finely chopped handful fresh coriander, chopped
lime wedges, to serve
Soak 8 wooden skewers in cold water for 15 minutes to prevent them burning during cooking.
Put the steak, olive oil, garlic, oregano, paprika, onion and peppers in a bowl. Season well and leave to marinate for 10 minutes.
Meanwhile, make the tomato salad. Put the red onion into a bowl and cover with boiling water. Leave to soak for 5 minutes then drain. Pour over the lime juice and leave to stand for a further 5-10 minutes. Transfer to a large bowl along with the tomatoes and coriander. Season and mix well.
Thread the meat and vegetables onto the soaked skewers. Place the skewers onto a hot barbecue (the barbecue is ready when the coals are white and ashen) and cook for 2 minutes on each side.
Arrange the skewers on a serving plate. Serve with lime wedges and the tomato salad.
For the full recipe at Tesco here…